ABOUT THIS EVENT
When: Sunday, August 29 | 4:00pm – 9:00pm
Where: Fairmont Banff Springs – 405 Spray Ave, Banff, AB T1L 1J4
Cost: Cover charge of $20, which includes your dinner at the Lookout Patio (Taco Bar – specify dietary restriction during registration)
We're excited to announce a unique Socality x Canon Creator Lab creative experience in collaboration with The Camera Store at the Banff Springs Hotel and grounds. Join us on August 29th for a special evening where you'll have the opportunity to re-connect and create with your local creative community. Your ticket will include dinner on the Lookout Patio. Please indicate any dietary restrictions during registration. In addition to the awe-inspiring landscape surrounding the property we'll also have designated spaces inside, curated with support from a stylist. Take advantage of the historic location and flex your creative muscles while making new connections. Following the event, attendees will also have the chance to win a two night stay from Banff Springs when you share what you create or capture from this experience.
As part of the Canon Creator Lab program, a variety of Canon gear will be available to try including mirrorless bodies and the latest lenses. If you'd like to borrow Canon equipment to shoot during the event, please bring your own SD Card and a valid piece of government ID. A limited amount of gear will be available on a first come, first serve basis.
Your ticket includes:
Access to the event and designated creative spaces (tickets are limited)
Your dinner (Taco bar prepared by the chefs at the Banff Springs Hotel and served on the Lookout Patio)
Access to Canon gear check-out for duration of event, courtesy of the Canon Creator Lab and the Camera Store (Available on a first come first serve basis)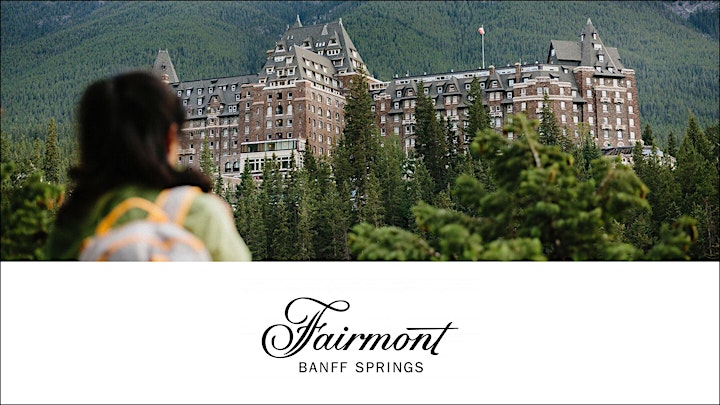 Who's the event for?
Whether your interest lie in photography, video, social media, design, or another creative discipline, these events are inclusive and open to everyone, regardless if you're just starting out on your creative journey or have been in the industry for years.
This event will be great for anyone looking to:
Expand their creative network and meet others in the creative industry and community in Alberta and beyond.
Capture images/video in and around the Banff Springs Hotel in a fun and social atmosphere.
Experience our designated creative spaces, set in some of the hotel's iconic rooms, where you'll have the opportunity to work with a stylist and models on site. (Please Note: rooms and spaces will be accessible to all but on-site models and styled areas will be available on a first come first serve basis. Attendees will be able to secure a time slot upon arrival.)
Try out a variety of Canon gear, including new mirrorless bodies and lenses.
Health & Safety:
In order to ensure that attendees are safe as live events resume:
Guests are required to self-evaluate before attending the event; please do not attend if you are sick or have symptoms of fever, cough, shortness of breath, loss of taste or smell, sore throat or runny nose or are waiting for results from a COVID-19 test. **Full refunds will be provided for those who have to cancel tickets due to health and safety reasons.**
We are working with Fairmont Banff Springs alongside their thorough facility guidelines to ensure the health and safety of all guests. To see everything Fairmont and Banff Springs are doing to keep everyone safe from a facility standpoint, take a look at the following link – https://www.allstaywell.com/
This event will be following public health recommendations in compliance with local, provincial, and federal guidelines. Please see up-to-date guidelines here: https://www.alberta.ca/covid-19-public-health-actions.aspx
All gear available for use will be sanitized before and after each check-out.
—
IN COLLABORATION WITH: THE CAMERA STORE
We're excited to have staff from The Camera Store on site bringing additional Canon gear out and supporting the event with their knowledge and expertise.
—
More details will continue to be updated and communicated as we get closer to the event. RSVP to secure your spot.