ABOUT THIS EVENT
When: October 3-6, 2021, Check-in is at 4pm on the 3rd, Check-out is at noon on the 6th.
Where: Lake Louise Inn – 210 Village Rd, Lake Louise, AB T0L 1E0
Cost: See below for Early Bird pricing and Regular rates
We're excited to announce a special 3-day/4-night workshop at Lake Louise this October 3-6, 2021.
Join us for a one-of-a-kind creative experience set in the stunning Canadian Rockies with accommodations at Lake Louise Inn. We're bringing together an all-star team of mentors and instructors with a wealth of industry experience to give you an immersive and hands-on learning experience.
Accelerate your creative growth as we collaborate to tackle real-world creative briefs, hear from brand representatives, share knowledge, and build relationships with creative peers and industry experts.
Curated to maximize your learning, attendees will be working together in small groups, each lead by one of our mentors and receive hands-on support, coaching, and mentorship, think a little like "The Voice" without the competition! You'll be tackling assigned creative briefs from two international brands (Canon and Eddie Bauer) using their brand gear, accessories, and the stunning location to collaborate with other attendees and multiple mentors to execute the briefs. At the end of the workshop, each team will share their results to a panel for feedback and identify strengths and areas for potential growth.
Alongside this "in the field" learning, you'll also have a chance to participate in sessions that will enhance your ability to produce and execute projects at a professional and commercial level, and gather insider insights on relationship building and growing your creative business from brand marketing executives.
Oh, and if it sounds like it's all work and no play – don't worry, we'll also be catching sunsets at Moraine Lake and Lake Louise, enjoying chef-prepared meals at Lake Louise Inn, as well as taking a dip in their indoor pool and whirlpools, and connecting around the fire with drinks and s'mores in their beautiful gazebo.
This is a one-of-a-kind opportunity to exponentially accelerate your creative career and skills, expand your network, build community, all in one of the world's most beautiful regions, Banff National Park.
Space is limited. Book your spot now!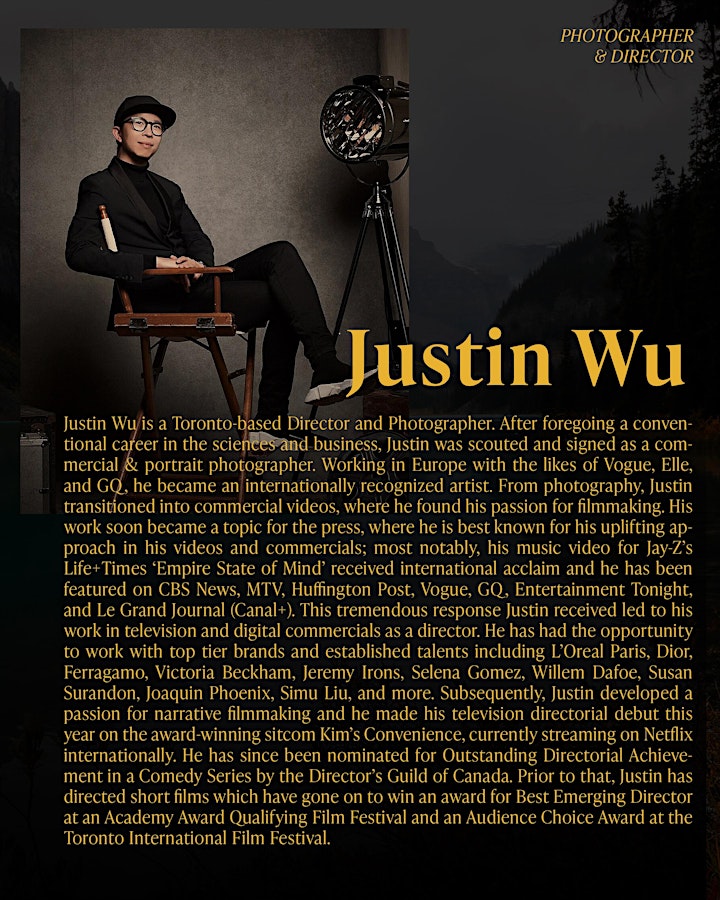 To see more of Justin's work visit his website or find him on Instagram.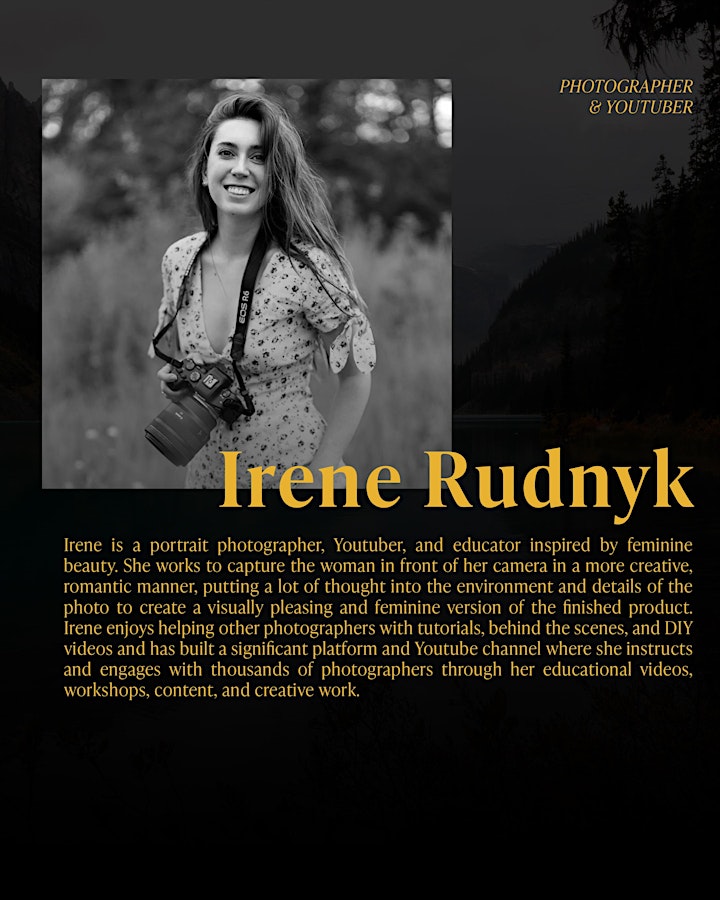 To see more of Irene's work, you can find her on 500px, Instagram, and Youtube.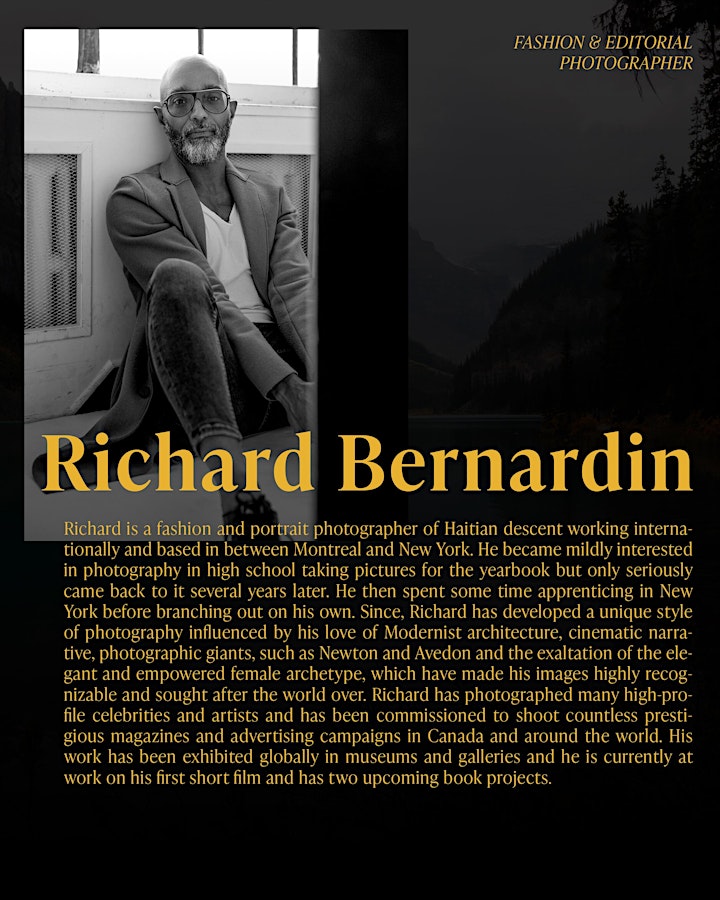 To see more of Richard's work, check him out on Instagram, or his website.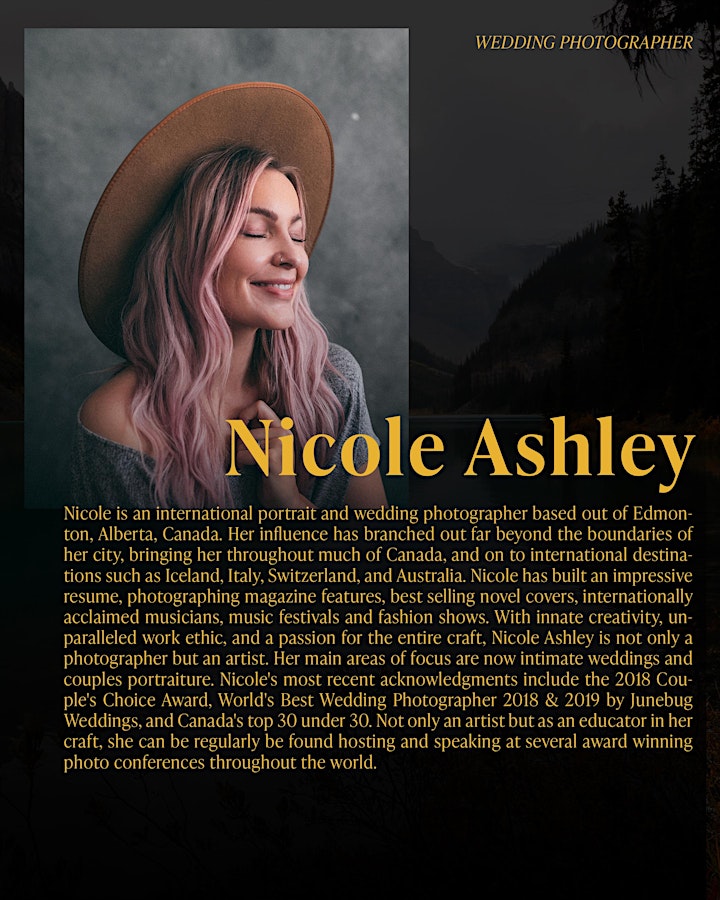 To see more of Nicole's work, check her out on Instagram or head over to her website at www.nicoleashley.ca.

Whether your interest lies in photography, video, social media, creative business, or another creative discipline, these events are inclusive and open to everyone, regardless if you're just starting out on your creative journey or have been in the industry for years. This workshop and experience has been specifically designed for those looking to:
Get hands on mentorship and support from industry experts and brand executives
Connect and build relationships with other like-minded creators in a truly awe-inspiring and world-class location
Tackle real-world commercial briefs and hands-on projects, while collaborating with other attendees and mentors to execute high level work
Enjoy a creative escape and experience to refocus and push your creativity to new heights
Engage in one-on-one and small group immersive learning with peers and mentors
This on-location "In the Field" workshop is open to singles, couples, small groups, and individuals of all skill levels and experience, ages 18+. If you're purchasing "Shared Room" tickets as a couple, or as friends attending together, please indicate in the field provided during registration who you're traveling with and we'll accommodate accordingly.

INVESTMENT / COST:
Regular Price – September 17 and after:
$1349 CAD / person (PRIVATE ROOM)
$1249 CAD / person (SHARED ROOM)
* all prices are shown in Canadian Dollars (CAD)
If you select the "Private room" option you'll have a room to yourself for the duration of the event. If you select the "Shared room" option you'll be sharing a room with two beds (or alternative configuration optional) with 1 other person who you will need to specify upon registration (ie. Couple, friends attending together etc.) Please note – The "Shared room" option is only available for those attending with another person, with each person requiring a "Shared Room" ticket.
Note: In order to provide a meaningful and high quality experience for all who attend, total capacity is limited with only a total of 45 spots (20 already committed) and 25 tickets available on a first-come first-serve basis until capacity is reached.


Included in the workshop & event:
3 Nights accommodation at Lake Louise Inn – Combining the comfort and convenience of modern amenities with a beautiful rustic mountain setting, Lake Louise Inn is comprised of five lodges just down the street from Lake Louise village and minutes away from two of Canada's most iconic natural wonders – Lake Louise and Moraine Lake. On-site you'll find a variety of amenities including a pool, hot tubs, fitness centre, on-site restaurants and bars, and more. [NOTE: If you select the "Private room" option you'll have a room to yourself for the duration of the event. If you select the "Shared room" option you'll be sharing a room with two beds with 1 other person who you will need to specify upon registration (ie. Couple, friends attending together etc.) The "Shared room" option is only available for those attending with another person.]
All meals during your stay: 3 group dinners prepared by the chefs at the Lake Louise Inn, 3 Breakfasts, & 2 lunches.
All group sessions and hands on "in the field" group workshop days
Here's a general overview of how the days will go:
Sunday – you'll arrive to check-in at 4PM, and the evening will consist of an introduction to your mentors, group formation, our first session, dinner with everyone, and wrapping up the evening with drinks and s'mores around the fire at the Inn's beautiful gazebo.
Monday – you'll start the day with breakfast, followed by a couple sessions in the morning where you'll get to learn from our mentors on a variety of subjects along with time for questions and dialogue as these sessions offer a diversity of insights and preparation for the hands-on creative briefs you'll be tackling with your group later in the day. After lunch, you'll have some time with your group and a mentor to review your briefs and prepare for the shoot time you'll have in the late afternoon through golden hour. Your mentor(s) will be working with your group as throughout the process as you learn from both their expertise and those of your group members in an immersive and practical way. The day will wrap up with dinner back at the Inn and free time afterward so you can catch some rest before an early morning on Tuesday.
Tuesday – we'll start early as you and your team meet with your mentor(s) and tackle your second commercial brief and make your way over to Moraine Lake for sunrise. After lunch at the Inn, we'll have a session focused on developing lasting client and brand relationships and growing your business with speakers offering guidance from both sides of the creator / client relationship. You'll have time to work with your group and mentor(s) to review the work you've created for both briefs, give each other feedback, and tackle post production. You'll have some free-time in the late afternoon followed by an opportunity to catch sunset or a light hike before coming back for our last dinner together and one last fire in the gazebo.
Wednesday – after breakfast, you'll get a chance to share some of the work you and your group have created and receive feedback from a panel of marketing executives and creative professionals and get a chance to spend the last bit of time with everyone before checking out and packing your bags before noon.
Not included:
Transportation to and from the workshop / event location – Lake Louise Inn. You will be responsible for any flights or vehicle based transportation to and from the venue. If you're traveling via air, there are airport bus and shuttle options (options include Brewster Express and others) that can take you to and from the Calgary International Airport to Lake Louise.
Alcohol and discretionary snacks and beverages.
—
Canon Creator Lab: Gear Available
As part of the Canon Creator Lab program, a variety of Canon gear will be available to try including mirrorless bodies and the latest lenses. If you'd like to borrow Canon equipment to shoot during the event, please bring your own SD Card(s) and a valid piece of government ID. A limited amount of gear will be available on a first come, first serve basis.
—
Cancellation Policy:
FULL REFUNDS – Within 24 hours of purchase / registration (Until September 16th)
PARTIAL REFUNDS – 60% of ticket price (Up until September 16th, 2021)
NO REFUNDS – After September 16th, 2021
—
Note on COVID-19 & Cancellations:
PLEASE NOTE: Due to current restrictions in Alberta all attendees will be required to provide one of a) Proof of at least one dose of a COVID-19 vaccination or b) a negative rapid test within 72 hours of the beginning of the event.
In order to offer peace of mind, and ensure the health and safety of everyone attending, if you're displaying symptoms related to COVID-19 or facing government or regional restrictions that would inhibit your ability to attend after you've purchased your ticket, we'll work with you to ensure a full refund if you are unable to attend due to COVID-19 related circumstances out of your control. While we fully expect this event to proceed as planned, if due to a significant change in regional restrictions there was the need for the event to be cancelled, we will ensure all tickets are refunded. All personal travel related expenses are the responsibility of the guests and their relationship with 3rd party service providers.
—


Along with the amazing mentors you'll have working with you, we're excited to have a great team of hosts from Socality, Canon Canada, and visits from other brand representatives as well.
These include:
BRETT GASKELL | Senior Director of Customer Experience at CANON CANADA
NICHOLAS TOMIC | Senior Manager of Marketing Communications at CANON CANADA
JOSIAH JOSEPH | Events & Content Production at CANON CANADA
SCOTT BAKKEN (@scottcbakken) | SOCALITY Founder, Creative Director & Commercial Photographer
JONATHAN ZOETEMAN (@jonathanzoeteman) | Portrait & Lifestyle Photographer & Operations Director at SOCALITY
JAMIE OUT (@jamieout) | Commercial & Outdoor Photographer