ABOUT THIS EVENT
When: March 1-3, 2020, Check In is at 4pm on the 1st, Check Out is at noon on the 3rd.
Where: Pomeroy Kananaskis Lodge – 1 Centennial Dr, Kananaskis Village, AB, Canada T0L 2H0
Cost: See below for pricing options including Early Bird and Regular rates
Socality x Canon Creator Lab is excited to announce our first Creator Retreat, a boutique 2 night event taking place at the Pomeroy Kananaskis Lodge nestled in the Canadian Rockies from March 1-3, 2020.
Escape the noise and join us for a 2-night / 3 day retreat as we cover subjects around photography, creative business, balance and wellness for creatives, and designing and building a life and business around the things you love. The awe-inspiring natural beauty of the surroundings coupled with the incredible amenities on site at the Pomeroy Kananaskis Lodge offer up a perfect setting for a creative reset.
We'll spend time soaking in the Kananaskis Nordic Spa, learning from one one another through a variety of small group discussions, Q&A segments, and intentional workshops and sessions where we tackle photography and editing, get hands-on as we discuss and share lessons and tools for building a creative business (whether it's just you, or it involves a team you're building around you), and lean into the importance of balance, self-care, and wellness with a session focused on designing your creative life. Along with a memorable stargazing snowshoe experience, there will be a number of opportunities to flex your creative muscles both on site and in the area surrounding the property.
Our hope is that this brief escape from the day-to-day will leave you with more clarity around your personal and business goals, a strong sense of support and community, and an opportunity to grow in your skills as a creator through the teaching, group discussions, and one-on-one conversations had. We've seen so many lasting friendships and connections formed through similar events in years past and we expect more of that to result from this one.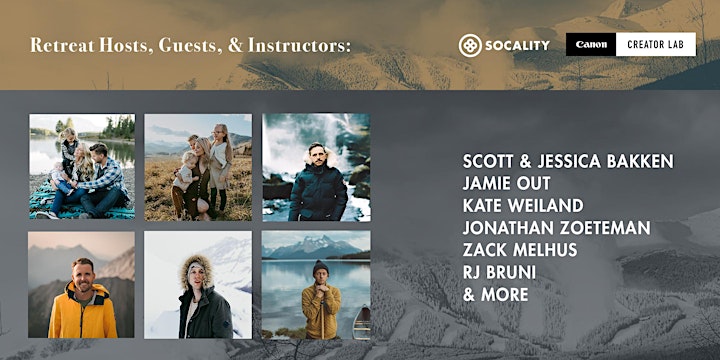 RETREAT HOSTS, GUESTS, & INSTRUCTORS:
SCOTT BAKKEN & JESSICA BAKKEN (@scottcbakken & @jessicabakken)
SOCALITY FOUNDER, CREATIVE DIRECTOR & COMMERCIAL PHOTOGRAPHER
Scott and Jessica Bakken are passionate about creating spaces where people can connect and build authentic relationships. Married in 2002, they moved from Canada to Australia where they studied and lived for 6 years. Upon returning to Canada in 2010, they launched Bakken Productions, a media company working with international commercial clients such as Rogers Communications and American Express. They reside in Calgary, Canada where they have been balancing the development of a thriving business while at the same time building a family and raising their two kids.  Scott founded Socality in 2014, a creative community designed to connect and develop cultural contributors to use social media and creativity for community impact.  Scott and Jessica have learned how to juggle the craziness of family, life, and business while at the same time continuing to work towards new ventures. Together, they are excited to host you, and share how you can thrive in your goals and creativity while taking care of what matters most.
—
JAMIE OUT (@jamieout)
COMMERCIAL & OUTDOOR PHOTOGRAPHER
Jamie Out is a travel and adventure enthusiast and freelance photographer from Vancouver, British Columbia.  Often found exploring the rugged coastlines of the West Coast or the immense Rocky Mountains of Canada, his primary focus is telling stories and capturing the spirit of the adventure in these landscapes. Jamie thrives off of exploring those hard to reach places and capturing unique perspectives in his photography. He has worked with many top International and Canadian brands including Samsung, Canada Goose, RBC Avion, Woods Canada, Tourism Germany, and Oprah and is a husband and father to a four year old son named Justus and a 6 month old daughter named Rooney.
—
KATE WEILAND (@kweilz)
BLOGGER & PHOTOGRAPHER
After obtaining her Bachelor of Fine Arts in Theatre and Masters in Education from the University of Calgary, Kate returned to school as a drama and dance teacher which allowed her to combine her passion for theatre, art and music with her love of working with young people.  Kate worked extensively in the Dance industry in Canada and throughout the US as well as at various private competitive studios and post-secondary institutions.  As a long time fine arts lover Kate began to dabble with photography and started to post to her account @kweilz after discovering Instagram.  As her unique style emerged she brought an unconventional aesthetic to her audience that touched on her new life as a parent.  Her photography work has most notably been featured in Genic Magazine, Huffington Post, Buzzfeed and Bored Panda. Kate has a family of five with her long time sweetheart – husband Nate.
—
JONATHAN ZOETEMAN (@jonathanzoeteman)
PORTRAIT PHOTOGRAPHER, WRITER, & OPERATIONS DIRECTOR at SOCALITY
Jonathan Zoeteman is portrait and lifestyle photographer and writer based out of Calgary, Alberta, Canada. With an educational background in business and entrepreneurship (Bachelor's in Finance, MBA in Entrepreneurship) and a lifelong pursuit of creativity and creative expression, Jonathan is passionate about seeing people from all walks of life step into the fullness of their creative potential. His professional work has spanned a variety of industries including music, fashion & lifestyle, tourism, non-profit, and hospitality among others. Along with a spectrum of creative pursuits, Jonathan currently works as the Operations Director for Socality.
—
FILMMAKER & DIRECTOR at INMIST MEDIA HOUSE
RJ was born and raised in the Fraser Valley of British Columbia, surrounded by some of the worlds most pristine wilderness. His love for film grew simultaneously with his itch for adventure. The idea that he could shape these two passions into one unified idea, has developed into Inmist Media House, the commercial and documentary film production company he leads on a day-to-day basis. RJ holds the vision that all crafted art needs to be truthful to the creator and exhibit authenticity to the consumer. His work can be found both via social media and online at https://inmistmediahouse.com/.
—
ZACK MELHUS (@zmelhus)
COMMERCIAL & LIFESTYLE PHOTOGRAPHER, SOCIAL MEDIA at SOCALITY
Zack Melhus is a commercial photographer based in Chilliwack, BC. Zack's images evoke feelings of wonder and nostalgia and have opened doors for him to tell stories around the world. His clients have included Tentree, Google, Sky Helicopters, Tourism Whistler, Hidden Iceland, Canon Canada, and many other lifestyle brands and tourism boards. Along with his photography work, Zack also works locally as a youth mentor, and manages Socality's Social Media presence online. As someone who devotes a lot of time reflecting on the creative process and art's impact on people, Zack is really looking forward to joining together in recalibrating our focus and refining our purpose in community at the Creator Retreat in March.


Who's the retreat for?
Whether your interest lies in photography, video, social media, blogging, or one of a variety of other creative disciplines, this retreat is inclusive and open to everyone, regardless of whether you're just starting out on your creative journey or have been in the industry for years. It has been specifically designed to support those looking to:
Improve their skills (in photography, creative business, and social media)
Kick-start, clarify, and accelerate their creative goals this year
Plan and take intentional steps towards designing and building out a life and business they love
Connect and build a network with a community of like-minded creative individuals to ensure support and accountability along the way
Enjoy a creative escape and getaway to reset and refocus
Engage one-on-one and in small groups with a variety of creators who can support and bring direction for the next steps needed to achieve big goals
The retreat is open to singles, couples, small groups, and individuals of any and all skill levels and experience. If you're purchasing "Shared Room" tickets as a couple, or as friends attending together, please indicate in the field provided during registration who you're traveling with and we'll accommodate accordingly.


HOW MUCH?
Early Bird Pricing – Ends February 14th:
$529 / person (PRIVATE ROOM)
$479 / person (SHARED ROOM)
* all prices are shown in Canadian Dollars (CAD)
Regular Price – February 15 and after:
$599 / person (PRIVATE ROOM)
$549 / person (SHARED ROOM)
* all prices are shown in Canadian Dollars (CAD)
If you select the "Private room" option you'll have a room to yourself for the duration of the retreat. If you select the "Shared room" option you'll be sharing a room with two beds with 1 other person who you will need to specify upon registration (ie. Couple, friends attending together etc.) Please note – The "Shared room" option is only available for those attending with another person, with each person requiring a "Shared Room" ticket.
Note: We're excited to be able to provide this first retreat at such an accessible price thanks to the support and involvement of Pomeroy Kananaskis Lodge and the Socality and Canon Creator Lab teams. In order to curate a meaningful and high-quality learning experience and opportunity for connections to form between all retreat attendees, space is limited to a maximum of only 25 attendees. Tickets are available on a first-come first-serve basis until capacity is reached.


Included in the retreat:
2 Nights at the Pomeroy Kananaskis Lodge – At the intersection of backcountry and luxury, Pomeroy Kananaskis Lodge is nestled in the picturesque and stunning Kananaskis Valley with a full portfolio of amenities on site including the Kananaskis Nordic Spa, indoor pool and hot tub, fitness studio, and an assortment of bars, cafes, and dining options on site. [NOTE: If you select the "Private room" option you'll have a room to yourself for the duration of the retreat. If you select the "Shared room" option you'll be sharing a room with two beds with 1 other person who you will need to specify upon registration (ie. Couple, friends attending together etc.) The "Shared room" option is only available for those attending with another person.]
2 Group dinners prepared by the chef's at the Pomeroy
Group Private Access to the Kananaskis Nordic Spa with the ability to photograph and capture the space (not allowed when open to the public).
All Workshops / Sessions – The retreat will include a full day with a series of workshops and sessions including topical coverage on photography & editing, building your creative business, and a session focused on designing your creative life with an emphasis on wellness, self-care, and balance. Along with the workshop sessions, there will be space for follow-up discussion in smaller groups, group Q&A, and free time to engage in practice, deeper conversations, or time for personal reflection and rest.
Stargazing Snowshoe Tour – Led by the experienced guides from Kananaskis Outfitters.
This retreat spans 3 days, with a full day of workshops, sessions, and experiences on the Monday (March 2nd). The first day will include check-in, arrivals at the Lodge, and a time for introductions followed by a group dinner. The following day will include multiple workshops and sessions throughout the day, time for small group break-out sessions focused on engaging and actioning the learning and conversations had, Q&A / group discussion time, and the stargazing snowshoe tour after dinner. Our final morning together will include breakfast and private access to the Kananaskis Nordic Spa with a final chance to reconnect as a group before check-out around noon.
Not included:
Transportation to and from the retreat location – Pomeroy Kananaskis Lodge. You will be responsible for any flights or vehicle based transportation to and from the retreat venue.
Lunch on the 2nd – all meals will be covered for the duration of the retreat except for lunch on the 2nd. You will have some free time during a lunch break and will have a variety of options to choose from on site from the portfolio of cafes, bars, and restaurants available.
—
Canon Creator Lab:
As part of the Canon Creator Lab program, a variety of Canon gear will be available to try during various periods throughout the retreat including mirrorless bodies and the latest lenses. If you'd like to borrow Canon equipment to shoot during the retreat, please bring your own SD Card and a valid piece of government ID. A limited amount of gear will be available on a first come, first serve basis.
—
Cancellation Policy:
FULL REFUNDS – Within 24 hours of purchase / registration (Until February 16th)
PARTIAL REFUNDS – 60% of ticket price (Up until February 16th, 2020)
NO REFUNDS – After February 16th, 2020
—